Latest News
YSR Reddy Death, Ambani And ExiledOnline Controversy
Details

Written by Administrator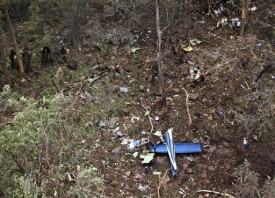 I am not sure why but after 3 months of YSR Reddy's Helicopter crash death, the story is again picking up its momentum.
Russian web site exiledonline original report news on ysr death was claiming to have Ambani's involvement into the helicopter crash. YSR latest news ambani hand on ysr death russian website news report.
According to ExiledOnline.com, Mukesh Ambani had something to do with YSR's helicopter crash... What is the whole controversy??
YSR Murder Conspiracy
YSR Reddy, who heads the state of Andhra Pradesh, died in a mysterious helicopter crash back in August 2009. What's eerie is that the dead politician recently went public attacking India's most powerful oligarch family, the Ambani's, threatening to take away their giant offshore gas concessions.

Y.S. Rajasekhara Reddy? Just speculatin' on a hypothesis, as the police chief says in Miller's Crossing, and here's why:

Just over a month ago, as the Ambani brothers' insane internecine war over offshore gas deposits dragged on with no end in sight, Reddy publicly demanded that his state, Andhra Pradesh, take a share of the gas deposits for itself:
Looks like so called "News Channels" has picked up the exiledOnline Story and now its all starting over. You can read the exiledonline story on YSR death and Ambani controversy
You might want to keep an eye on Reliance Stock right now.. it might be impacted with this whole controversy....